The Soft World makes unique custom pieces for special projects for architects and interior designers. Think of felted tapestries, acoustic panels, wall hangings, wall coverings, floor objects and window treatments.
Felt has great architectural possibilities for art & architecture. Natural woolfelt gives the best acoustic benefits in modern architecture. It provides a natural warmth, look and feel in interesting combinations next to cool materials like concrete and glass.
Woolfelt benefits from natural characteristics like being very tactile, natural dirt and fire resistance and the undyed wool is colourfast and warm in winter and cool in summer. The felt is very strong and surprisingly easy to keep beautiful in a natural approach. Synthetic fabrics can't compare to the comfort of this 100% natural wool product.
As Beatrice Waanders is an interior-design architect from origin, she can be your professional partner in your project. The felt is all handmade and can be made in any size required. The Soft World can deliver the best assembled system for your projects.
Happy Sheep at Object art & design fair as part of Rotterdam Art Week 2020
Listen to the Trees, wall-hanging in alpaca & silk, Big Art fair Zaandam, September 2019
Room-divider Hidden, 2019
Local left-over wool from Dutch landscape-projects is usually just thrown away. Beatrice Waanders from The Soft World thinks this is a waste, considering the superior properties and the beauty of the wool. They have put the wool in a hanging room-divider. Not carded, woven or felted, just sewed in, pure as it is. Like this, the wool shows his best, a fascinating graphic design and gives comfort as well; the best acoustic solution. HIDDEN literary shows what it contains, the opposite of nowadays mass production where it's hard to track the origins of products. HIDDEN doesn't hide, but you can hide behind.
Woolcocoon 2018
HAIR at BIG ART 2017, Amsterdam
Route du Nord, Rotterdam (The Netherlands), 2017
Wall tapestries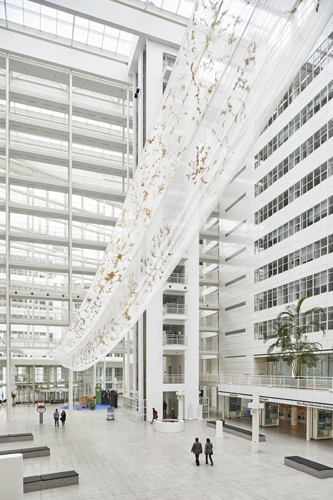 Town Hall The Hague (The Netherlands), 2015
Oogenlust, Eersel (The Netherlands), 2015